The concept of the site "vosartistes.com" is set up so that the owners of works of art (Owners, Artists and Galleries) can entrust us "virtually" their works so that we put them for sale at the level of Morocco and internationally with discretion and professionalism. To display your works on the site, simply email us the photos to vosartistes.com@gmail.com with the name of the artist or artists concerned and your full contact details.
Our conditions are:
Each photo is accompanied by a complete description (Dimensions, Artist, Prize, Year of Execution, Technique, Biography of the Artist… etc.)
Photos must adhere to the following nomenclature: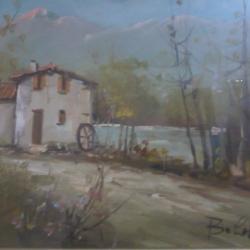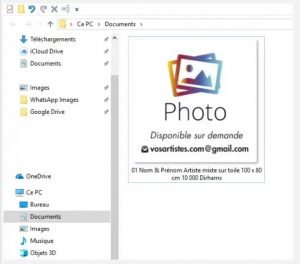 We select a few works to integrate them on our website. The publication on the site is FREE.
We also present them to our customers through our catalogues, mailings or other.
We do the commercial approach ourselves with potential buyers.
The published work stays with its owner so that the owner has the opportunity to sell it by himself even if he wishes. We only move them if we find a buyer (In exchange for a deposit voucher)
The remuneration due to "VOSARTISTES.COM" is set at 15 HT of the sale price concluded between the owner and the buyer. This remuneration is paid by the owner to the delivery of the work to the buyer and the settlement of the purchase.
No exclusivity is required, the owners (Artists or collectors) are entitled to sell their paintings by themselves. In the event that a work is sold by its owner directly, withdrawn from sale or sold, a simple mail is sufficient to remove it from the site, at no cost.
1- For Collectors/Owners:
We take the pictures of the works ourselves if we are asked.
We can move to better "guide" the owners (Depending on the location)
2- For Galleries:
We advertise the various upcoming events (Exhibitions, Vernissages… etc.)
We are responsible for exhibiting the works of a previous exhibition, for example.
3- For Artists:
Just send us your biography as well as your artistic journey.
The dissemination on the site does not engage the Artist, free to sell and exhibit his works himself.
 The number of photos to send is about 10, with a very good resolution, taking care to mark in each photo its dimensions, its price, a reference number as well as your artist name.